Walking Holidays
If you are looking for a walking holiday in the UK you will be spoilt for choice. The Briitsh countryside has some of the most varied scenery for such a relatively small land mass. From the gently undulating terrain of the south to the craggy peaks of the highlands of Scotland, the stunning landscape of the Lake District and the moors and dales of Yorkshire - the British Isles can offer walking holidays to every level of ability.

One of the first things you need to decide is whether you are looking for a guided walking holiday or self-guided. Experienced walkers looking to keep to their own pace and itinery may prefer a self-guided walking holiday where all they require are good pre-arranged route maps, and prebooked accommodation. If you are staying in a different place each night, a luggage transfer option may be preferable than carrying everything in a rucksack enroute.

If you are on your own joining an organised walking holiday can be a great way of meeting like minded people and making new friends. Equally couples and friends will enjoy the camaraderie of joining an organised group. If the group is led by someone knowledgable about the local area they can impart alot of interesting information as you go, making the journey all the more interesting and worthwhile.

Joining an organised group is preferable if you are less experienced and are not familiar with the terrain. It is much safer particularly if the terrain is challenging or remote and you are not adept at reading ordinace survey maps.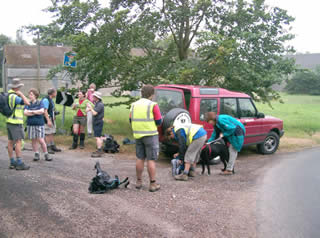 It is important that you wear suitably sturdy footwear - make sure you have broken in any new boots before setting off on a long walk and take sticking plasters just in case! A warm fleece and a waterproof jacket are essential items as the temperature can drop considerably if you are accending mountains - layers are generally best. Always take plenty of water and a high calorie food such as chocolate or Kendal Mint Cake which can give you that extra bit of energy between meals.
When you are choosing a walking holiday the type of accommodation will be an important consideration. It may be that you prefer to return to a comfortable hotel every night to rest your weary limbs! Bed and breakfasts are a good options if your route is one that passes through villages or near to farmhouse bed and breakfasts - may do offer luggage transfer onto your next B&B for an extra fee. Alternatively you may choose to stay in a youth hostel or hostels to kept costs to a minimum. Bunkhouses are popular in the more remote regions and offer basic shelter from the elements, alternatively you may choose to camp. If you are camping in remote exposed areas your equipment should be of a high standard and a good quality sleeping bag is essential.
Whatever your preferences for your walking holiday you will find plenty of choice available.
Walking Holidays